Sometime ago I made a post about how to install Arch Linux on a MacBook. Because I sometimes develop for iOS I end up switching between the two of them from time to time. Some things feel faster in one operating system versus the other, and the reverse also happens. I also know that sometimes there's a perception of speed which doesn't quite relate to the actual speed of operations (animations are one of the tricks that play a large role in this). So, having updated both systems, I've ran a couple of tests to get some basic yet solid numbers on the performance of each system.
Disclaimer: There haven't been major changes to both operating systems as of the time of the publishing of this article that could result in perceived deviation from these results. That said, these tests were performed with the latest version of Arch Linux as of September, 2016. OS X version tested was OS X 10.11.6 El Capitan.
System details
Both systems were ran without third-party services or applications being executed at the time, but it is worth noticing that I've disabled a bunch of functionalities I don't use on OS X that could otherwise have had a negative impact on the results. On OS X I have disabled file-system encryption, Time Machine, and all sorts of things related to Spotlight indexing of my personal files and actions.
On Arch Linux I use the KDE desktop environment, pretty much as the standard Plasma works out-of-the-box on the desktop.
GeekBench benchmark
GeekBench 4 is a cross-platform benchmark that runs a lot of test scenarios which make it a good representation of how the operating system can impact the performance of various desktop applications and the way they work.
OS X

You can check the details for the GeekBench results on OS X here.
Arch Linux

You can check the details for the GeekBench results on Arch Linux here.
Unigine Heaven Benchmark
OS X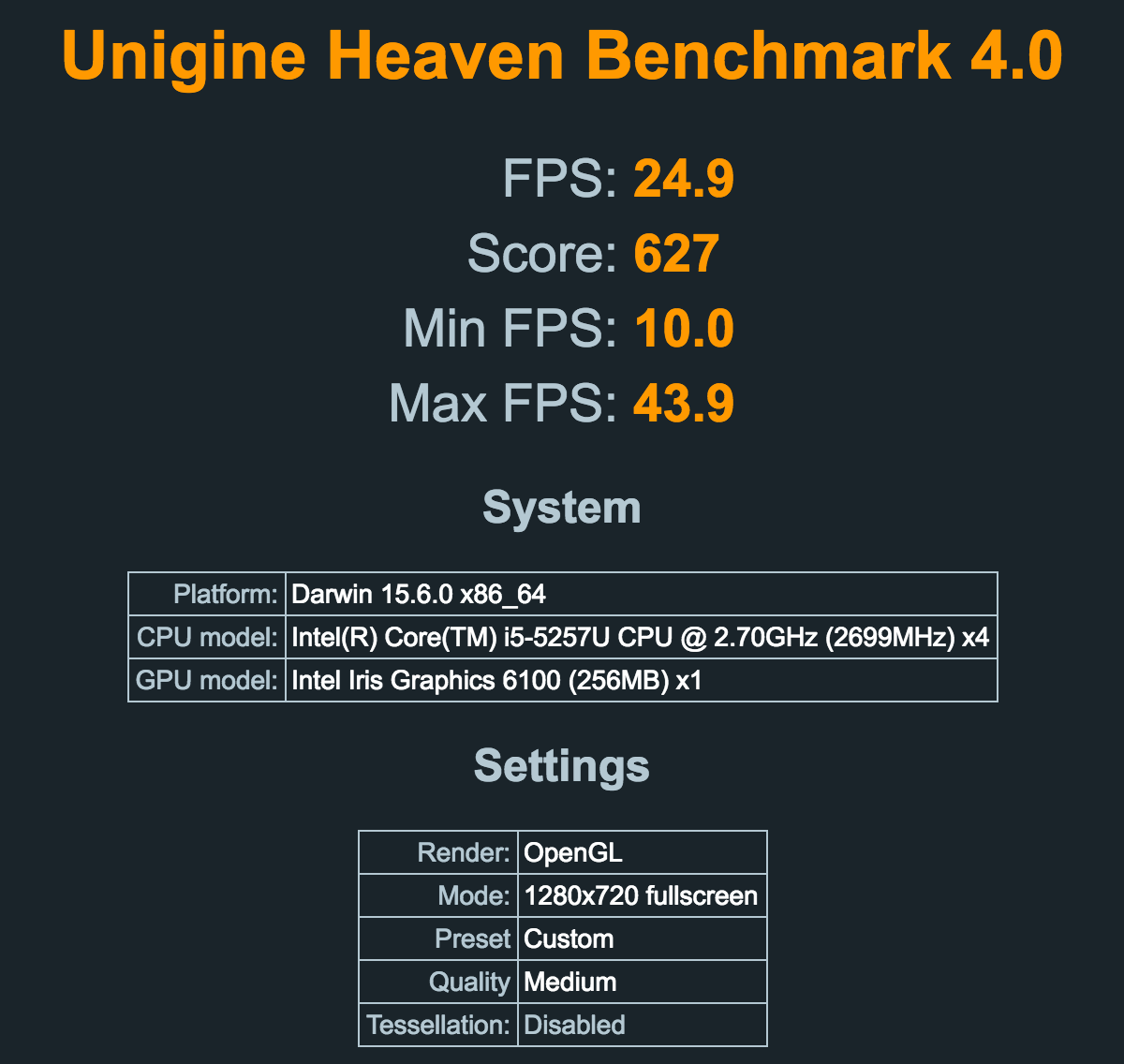 Arch Linux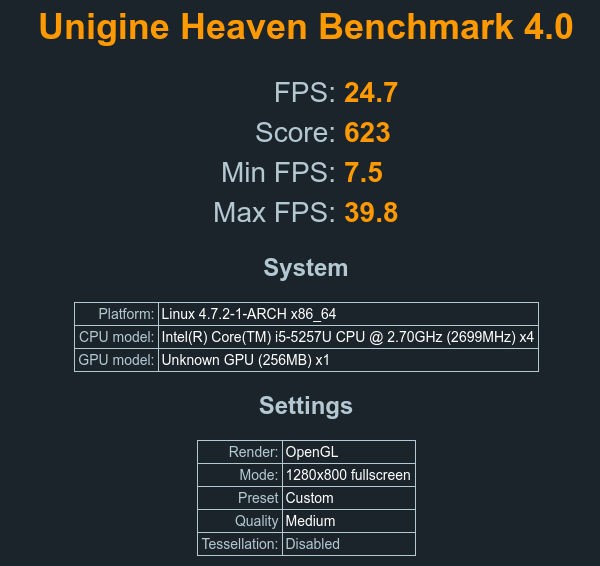 Browser performance
The browser is definitely one of the most important applications nowadays. Here's how both systems fare.
OS X
Basemark

HTML5Test

Result details
Arch Linux
Basemark

HTML5Test

Result details
Personal Experience
To end this article, I'll avoid drawing a conclusion and leave it to the reader to render their own. Performance is a vast subject that comprehends more than raw timings and values, which surpass the goal of this article.
I feel that the latest KDE itself is more fluid and feature rich than OS X's Aqua, so in the end it offers me more productivity to work with Arch. At the end of the day this makes Arch Linux the winner for me and what matters to me.
That being said, when it comes to tasks that are GPU heavy such as video editors, OS X has larger compatibility with know applications out of the box and that's a plus for me.
In regards to gaming, the scales are slightly turning in favor of Linux in general, where things like Vulkan support is more advanced, I would expect that the performance here would easily surpass OS X. As of the writing of this article Intel is still actively developing and contributing with better Linux driver support, so I'm curious to see what the future holds for MacBooks that rely on this GPU.
Everything considered, it is nice to see that Linux can easily compete with OS X (now renamed to macOS) in terms of performance on a MacBook, that's good news for everyone interested in dual-booting in these machines.